If you're wondering where I've been my fellow Ninjas... I've been teach K-5th graders how to make levels on N!!! anything published by 'techkids'... just know it's from my Tater-Tots... Busy teaching and influencing the next generations of N gamers. So don't be too judgmental on 'em, a lot of them are still learning the ropes.
Here's the link of a new maze level for my followers who can never forget the AiR
...careful you may rage, but in All Honesty, True N player know it's impossible not to Five-Star my levels.
AiR out.
www.thewayoftheninja.org/nv2.html?l=285158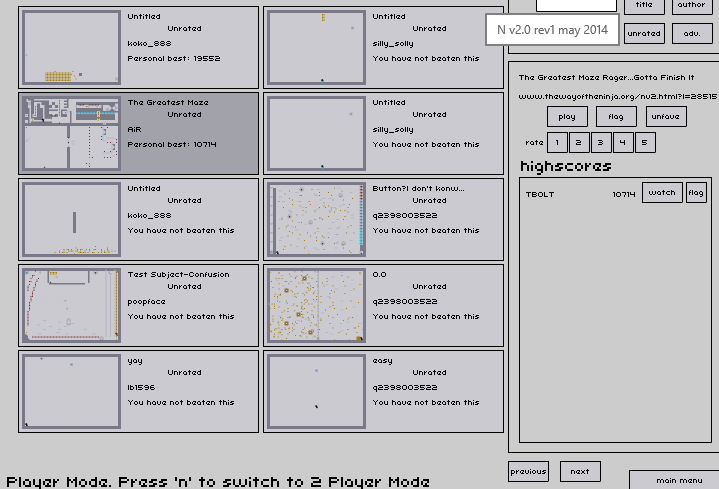 beaten

_________________
Maker of most nv2 maps 15000+

TBOLT

Admin




Messages

: 648


Joined

: 2014-04-05


Age

: 29


Location

: Wales



Very impressive T Bolt, if anyone could do it- I knew it be you!
I think I'm gonna make you a
custom level
asap... I'll send you the link soon. Prepare yourself for Epicocity!!
(new word I just made up)
[God knows I'm so clever and original] .
Okay but seriously, we'll chat soon. PeAcE
-AiR
AiR, that's awesome! I've seen some good maps from techkids. Keep it up, man.

V3L0C1T4

Admin




Messages

: 29


Joined

: 2016-03-31


Age

: 21


Location

: Somewhere in the USA.



Thanks Velocity
---
Permissions in this forum:
You
cannot
reply to topics in this forum